Flaming Red Ruby Fetches $18 Million at Christie's Hong Kong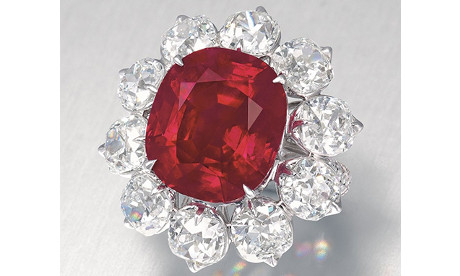 Flaming Red Ruby Fetches $18 Million at Christie's Hong Kong
By Anthony DeMarco, Contributor
Forbes
"The Crimson Flame," an exceptionally rare Burmese ruby sold for $18.3 million, setting a world auction record per carat of $1.2 million at Christie's Hong Kong sale of Magnificent Jewels Tuesday.
The 15-carat "pigeon's blood" gem surpassed its high estimate of $15 million. The auction house said it is "undoubtedly the most important pigeon's blood ruby to come to auction in Asia."
It may have been the most important but it wasn't only signature Burmese ruby to appear at the auction held at the Hong Kong Convention & Exhibition Centre. The "Mogok's Fiery Red" suite by famed Burmese ruby jewelry house, Fai Dee, took in commanding prices. The suite was offered as individual lots and sold as follows:

The Crimson Flame, Photo by CHRISTIE'S IMAGES LTD. 2015
* A necklace of 32 cushion-shaped pigeon's blood Burmese rubies, weighing approximately 5.05 to 1.04 carats, alternating with cushion-shaped diamonds, mounted in platinum and gold took in $7.2 million, within its estimate.

Burmese ruby and diamond necklace by Fai Dee. Photo by CHRISTIE'S IMAGES LTD. 2015
* Pigeon's blood Burmese ruby and diamond earrings sold for $3.1 million, within its estimate.
"It's the year of the ruby at Christie's Hong Kong," declared Vickie Sek, deputy chairman Asia & Director of Christie's Asia Jewellery department.

The flawless "Afghan Emerald" Photo by CHRISTIE'S IMAGES LTD. 2015
In addition, the "Afghan Emerald," a 10.11-carat flawless gem fetched $2.2 million, establishing a world record price for an Afghan emerald at auction. It surpassed its $1.5 million high estimate.
The auction of 320 lots that included diamonds, colored diamonds, colored gemstones, jadeite and signed pieces took in $96.9 million with 80 percent of items sold by lot and 83 percent by value, Christie's said. The sale attracted 160 buyers from 16 countries across three continents.
Other items of note include:
* A 7.53-carat Fancy Intense Pink diamond ring sold for $6.25 million, within its estimate; and

CHRISTIE'S IMAGES LTD. 2015
* A two-strand jadeite bead necklace with a diamond clasp by Cartier (above) sold for $7.5 million, well above its 4.8 million high estimate.