Seeing Red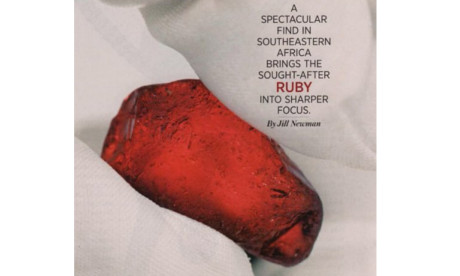 Seeing Red
By Jill Newman
Robb Report, November 2015

A 40-carat rough ruby from Gemfields' Montepuez mine in Mozambique

In a remote area of Mozambique, at the Montepuez ruby concession, miners last year uncovered aan extraordinary pair of matching stones. Each of the rough gems was nearly the size of cherry, and their combined weight was an impressive 45 carats. Experts estimated their total value as being in the tens of millions of dollars. In June, Thailand's Veerasak Gems purchased the set of an undisclosed amount, christening the two rubies the "Eyes of the Dragon" for their spellbinding color. "This is a once-in-a-lifetime discovery," says Ian harebottle, CEO of Gemfields, the London-based mining firm that sold the pair and is the majority owner of the Montepuez deposit. "It is as rare as locating a vintage Ferrari; you won't likely find another model again, and you won't likely see a set of rubies like this again."
These standouts and other high-caliber examples, including rubies exceeding 5 carats, are a true exception in the world of gems, according to Harebottle, who estimates that less than 2 percent of the rough stones excavated from Montepuez qualify as premium-quality specimens. Indeed, a high-quality, sizable ruby is more elusive than a fine diamond, sapphire, or emerald; gemologists hold this to be true, and so, it seems, do collectors, as evidenced by recent record-breaking prices at auction. In May at Sotheby's Geneva auction, a Cartier ring showcasing a 25.59-carat Burmese pigeon-blood ruby fetched $30.33 million, making it the most expensive ruby ever sold at auction. The untreated stone (which sold for almost $1.2 million per carat) far exceeded estimates, which ranged from about $12 million to $18 million. Also notable is another Sotheby's Geneva auction, held last November, that saw the Graff Ruby—an 8.62-carat cushion-cut Burmese stone set in a diamond ring—command $8.6 million.
Not surprisingly, these major gems hail from Burma—or Myanmar, as the country in Southeast Asia is known today—where the world's most desirable rubies have been discovered for centuries. (The term "pigeon blood" is a reference to their distinctive red color.) "Burma is the traditional source for rubies since medieval times," says Russell Shor, senior industry analyst for the Gemological Institute of America (GIA). "Tradition means a lot in this industry, and the Burma rubies are the standard for which all other rubies were judged." While there are ruby deposits in nearby Thailand, Shor notes, they are not known to produce the same level of color, quality, and size as the Myanmar mines.
The Montepuez mining concession in Mozambique, by contrast, started producing high-quality stones a few years ago, after Gemfields acquired the operation in 2011, and some of the rubies are said to rival their Burmese counterparts in terms of color and quality. "These are world-class stones," says Shor, who recently toured Montepuez as part of GIA's ongoing research efforts, "and a fair amount of them exhibit the same characteristics as Mogok rubies from Burma."

Sutra black-gold floral earrings with rubies
Burmese rubies, incidentally, have been far from plentiful in the States in recent decades, owing in part to U.S. government sanctions on Myanmar because of the country's repressive military regime and human-rights violations. Collectors by and large have had few options for obtaining sizable, top-quality rubies: Buy from estate collections, perhaps, or wait months or more for a new stone to arrive on the market. Some luxury retailers, such as Tiffany & Co. in 2003, stopped buying newly mined rubies unless they could reasonably determine that the stones' country of origin was not Myanmar. Trade restrictions have eased somewhere in the past several years, yet the demand for rubies still remains higher than supply.
The quest for rubies is age-old. Ancient Hindus called them ratnaraj, or "king of the gemstones." They believed that offering a ruby to the deity Krishna would ensure their rebirth as emperors. Burmese warriors believed that wearing a ruby would protect them during battle. In medieval Europe, men and women wore rubies as talismans for good health, wealth, and success in love. Generations of royal families have prized the rich, red stone, and to this day the ruby remains one of Earth's most regal and glamorous gems.
Historically, a gem's country of origin has played a significant role in determining its value and collectibility. For example, Colombia—specifically the South American country's Muzo mine in the Andes Mountains—has a reputation for yielding the most beautiful specimens in the emerald family, and the island nation of Sri Lanka (formerly known as Ceylon) is known as the source of the prettiest blue sapphires.
Today, however, new ruby deposits are being unearthed globally (Montepuez was discovered in 2009), and many top jewelers are selecting stones for their beauty and uniqueness, placing less importance on established places of origin. In July, at Cartier's grand unveiling of its Ѐtourdissant Cartier high-jewelry collection to VIP clients in the South of France, the company debuted the Garance necklace, whose highlights are two cushion-shaped Mozambique rubies, 5.27 and 5.02 carats, set amid smaller Burmese rubies and diamonds. Other jewelers, among them Van Cleef & Arpels, Viren Bhagat, and Bulgari (all three are known for their exceptional use of colored gemstones), have recently sourced rubies from Mozambique for their designs.
The influx of stones from Mozambique means more potions not only for jewelers but also for collectors, who likely will compare them to their counterparts from Myanmar. While Shor has observed similar characteristics between the countries' rubies, collectors may need some convincing. After all, the gem world as a whole still attaches a certain cachet to the country of origin, believing that a stone's heritage adds value. The science, clearly, is important as well. Rubies, which geologists believe began forming somewhere between 5 million and 40 million years ago, get their red glow from the presence of chromium in the stone, and other trace minerals define a specimen's unique traits. Thailand's rubies, for example, tend to have trace elements of iron that give them their deep red tone with a clean, open crystal structure. Burmese rubies, on the other hand, show trace elements of vanadium that create a pinkish-red hue and a crystal structure with slightly more slit and a higher luminance.

Mozambican rubies make a striking appearance in a ring and earrings, each with pearls and diamonds from Bina Goenka
Montepuez, Shor says, is yielding rubies with both of these types of characteristics, and Harebottle believes that top-quality gems overall, including examples gathered thus far from his company's Mozambique mine, are still undervalued. He points out that not six months after the 8.62-carat Graff Ruby sold for $8.6 million, or more than $1 million a carat, a Picasso, Women of Algiers (Version 'O'), sold at a Christie's auction for $179.4 million—the current record for the most expensive artwork sold at auction. "The value in a painting is the artist's brushstroke; otherwise it is just canvas and pigment," observes Harebottle. "A rare ruby or gemstone should be even more valuable than a painting. We just need to better educate people on the investment".