Inaugural Mozambican Ruby Auction in Singapore Generates $33.5 million in Revenue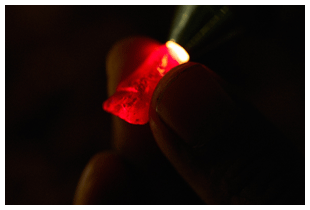 Gemfields' inaugural auction of rough rubies and corundum from its 75 percent-owned Montepuez ruby deposit was held in Singapore from June 12-17. It reported to yield gross auction revenues of $33.5 million and an overall average value of $18.43 per carat. 57 out of the total 62 lots of high and low quality rough rubies and corundum were sold, representing approximately 91-percent of the lots offered. The proceeds will be fully repatriated to Montepuez Ruby Mining Limitada. "Adding the revenues from our maiden ruby auction to those derived during this financial year from rough emerald and beryl sales implies aggregate consolidated revenues (from rough gemstone sales) in excess of $143 million," said Ian Harebottle, CEO of Gemfields.
A total of 55 companies attended and placed bids. Representatives of the Mozambican government also attended the auction. Many participants attended a Gemfields auction for the first time; among them most were from or closely associated with Thailand. Other participants were from various locations including New York, Jaipur, Germany and Israel. Cumulative costs incurred at Montepuez to date (including the acquisition cost as well as capex and opex since inception in 2012) stand at approximately $34 million. At the auction, Gemfields presented its "first-of-a-kind" grading and sorting framework for its rough rubies. The method utilized the expertise from its development of rough emerald grading system at the Kagem mine. The next Gemfields auction of rough ruby and corundum is scheduled to take place before the end of this year.
Cr. ICA