Mozambique's fiery red beauties
Fast becoming a favourite among illustrious jewellery ateliers and designer brands, the Mozambique ruby is steadily carving out a significant niche in the coloured gemstone marketplace. Industry stakeholders share their business outlook for this African gem in the conclusion of our two-part report on Mozambique rubies.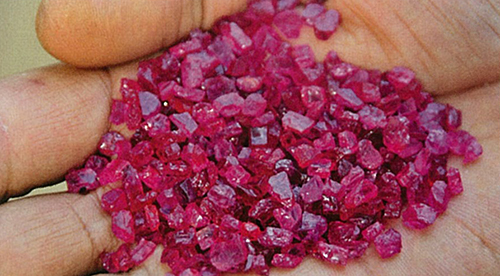 A parcel of small, clean pieces of rubies from the Central/Maninge Nice area seen in Pemba in 2009. Photo by Vincent Pardieu / GIA Laboratory Bangkok
Coloured gemstone producer Gemfields appears poised to dominate the ruby market and its red ambition is not without merit. Ian Harebottle, CEO of Gemfields, sees a rosy future for the Mozambique ruby, saying that he expects this gemstone "to at least meet, if not exceed, the success we have thus far achieved with emeralds."

Gemfields CEO Ian Harebottle
"Emeralds will always be our foundation, but they provided us with a great deal of experience, which we are now able to apply to rubies, and hopefully, a number of other gems in the future," Harebottle said.
"This has provided added impetus and momentum for the rubies, as well as the fact that rubies are so extremely rare and there is no other known ruby deposit in the world that is as significant as ours is right now; both in terms of the potential volume and quality of production. The wonder of this mine's product is already seducing even the most sceptical of gemmologists, and gem and jewellery lovers."
Gemfields is already laying down the groundwork for its Mozambique ruby campaign in Asia. China, where the colour red holds a special place, is potentially a lucrative market for this gemstone. Expect Gemfields to be highly visible at trade fairs in Hong Kong, Beijing and Bangkok this year, Harebottle said.
"We are working with a highly regarded PR company in China, Reuter PR, who is helping us manage and focus some of our core initiatives in this market. Some of these will include jewellery collaborations with high-end designers, various promotional events, ruby master-class training for retail sales staff and key media people, further supported by targeted consumer advertising," Harebottle said.
"We are also working with various government departments on a number of key issues including import duties, skills development, distribution, improved technical competencies with regards to certification, expanded retail sales and consumer education. While much is still to be done, the positive response we have received from each of these sectors to date has been quite incredible. The potential for coloured gemstones in China is huge and will result in a step-change on a global basis as and when fully delivered."
Inspired designs
India, which is already enamoured with Gemfields' Zambian emeralds, and Thailand are two other prime markets for Mozambique rubies.
"India, in may ways, is our home, or at least as much so as England, Mozambique, Zambia, Ethiopia and now Colombia. With such a strong cultural history and passion for emeralds and rubies, India will always be an important market for us. After all, the Sanskrit word for ruby is ratnaraj  or 'king of the gemstones' and represents the sun," said Harebottle. "From a rough ruby perspective, however, hailand just heads out India as the global centre for ruby beneficiation."
The Gemfields executive also noted that the Mozambique material's brilliancy and beauty are winning over those who favour rubies of Burmese origin.
"We have found that the best way by far is simply to show them – the proof is undoubtedly in the pudding as they say," he said. "While Burmese rubies are indeed magnificent, most of our gems are fully comparable with either the current Burmese production or the more ancient Thai ruby production. The only real difference being that the gems from these other sources have some level of history, while our gems have just started the process of creating their own unique history – a history that is well set to equal, if not surpass, all others over time."
The Mozambique ruby is indeed off to a beautiful start. Recently, the gemstone producer collaborated with iconic New York retailer, Bergdorf Goodman, in the launch of the Gemfields Collection consisting of one-of-a-kind jewels created by 18 of the world's most inspiring designers, from Stephen Webster and Glenn Spiro to Jamie Wolf. The collection, embellished with Mozambique rubies and Zambian emeralds, is available at Bergdorf Goodman's refurbished fine jewellery salon.
"This is an ideal platform to show that Mozambican rubies are comparable to the finest Burmese rubies," Harebottle said. "Also, and as mentioned earlier, this misconception is fading quite rapidly as we have already seen a number of the bigger houses such as Cartier, Louis Vuitton and Van Cleef & Arpels readily using and promoting Mozambican rubies in their fine jewellery collections."
The Gemological Institute of America (GIA) has also published several papers explaining the science behind each of these gems as well as their comparative qualities that state that Mozambican rubies compare favourably to Burmese rubies, he continued.
Consumer appeal
Li Chongjie, founder and CEO of Thailand-based China Stone Co Ltd, said requests for Mozambique rubies are coming from international and US-based branded jewellery companies, with Mozambique rubies below 1 carat in size enjoying steady demand.

China Stone Co Ltd CEO Li Chongjie
China Stone is a top producer and supplier of machine-cut, high-precision coloured gemstones in a strictly uniform and digitally calibrated array of colours, proportions and sizes. Founded in Bangkok nearly two decades ago, the company has securedits position as a major supplier of fine melee-sized gemstones to the world's top jewellery and watch brands.
"Customers asked us mostly for small calibrated stones of top colour and clarity, and in sizes ranging from 0.01 to 0.5 carat," said Li, sharing his personal observations about the Mozambique ruby market. "We do get single stone requirements, but not as much as the orders we receive for smaller stones in volume and value terms. I think it's because we are well-known for our small precision-cut stones."
China Stone's Mozambique and Burmese rubies in small calibrated sizes fetch the same prices, he added. "Our clients are receptive to the Mozambique material since it is cleaner and has a deeper colour than Burmese goods. When it comes to single stones, however, our Mozambique rubies are more affordably priced than Burmese stones since the former are sold at lower price points to begin with. We feel that most of our clients do not put that much emphasis on where the rough material for smaller stones is coming from, but they do care about a gem's geographic origin when it comes to buying stones in bigger sizes."
The industry's introduction to the Mozambique material has a positive impact on the ruby market, Li added. "First, the gemstone is readily available in a wide range of quality and colours, giving customers more choices; second, the Mozambique ruby is quite clean, and clarity is as important to the Asian consumer as a gemstone's colour; and third, it is relatively more affordable than the Burmese material, which means it appeals to a wider range of consumers," he said.
Growing demand
Anthony Peter Brooke, president of Thailand-based Gem Dreams and an official with the Thai Gem and Jewellery Traders Association, described 2015 as a "very good year for the Mozambique ruby, particularly in the Chinese market for 1- to 3-carat, non-heated stones."

Anthony Peter Brooke, president of Thailand-based Gem Dreams and an official with the Thai Gem & Jewelry Traders Association
"Meanwhile, the European market has been purchasing more stones as the traditional houses start to educate their clients to the beauty and availability of non-heated and heated rubies from this relatively new source," Brooke said.
Calibrated sizes in ruby, long missing from the marketplace, are also starting to come through from the cutting houses of Thailand since the rough Mozambique material has become increasingly available and will soon start to be seen in jewellery and fine collections, he added.
"Investment stones are also coming through," Brooke said. "However, it will take more time for the market, to fully embrace Mozambique rubies," said the gemstone specialist.
When it comes to a gemstone's beauty, geographic origin is inconsequential, he added.
"A fine gemstone is a fine gemstone – period. Country of origin should not be the defining point in purchasing a gemstone, not just rubies, but any other stone. The stones might well be more affordable at this time, but this has no impact on the individual beauty of any given stone. In fact, historically, all stones have been 'affordable' at some point or other," Brooke said. "In the not-too-distant future, Mozambique rubies will be just as difficult to find as any other stone that has been brought to market and whose source is eventually exhausted."
Thailand's coloured gemstones manufacturers have a significant role to play in the development of the Mozambique ruby market. He attributed this to the 50 years spent by Thai rough stone buyers sourcing the world to purchase gemstones and provide eaw materials for the cutting and processing factories in Bangkok and Chanthaburi.
"Mozambique rubies were identified as suitable for these factories in Thailand, and hundreds of dealers then helped promote the finished stones to the world market," Brooke said, "In fact, Gemfields, the world's largest miner of Mozambique rubies and holder of regular rough ruby auctions in Singapore, has identified Thailand as a major source for their sightholders and thus, have faith in their abilities to further promote this wonderful stone."
Seeing red
Santpal Sinchawla, owner of Thailand-based Sant Enterprises Co Ltd, said he will never forget the day when he stepped into the auction room in Singapore where Gemfields held its first sale of Mozambique rubies.

Santpal Sinchawla of Thailand-based Sant Enterprises Co Ltd, centre, with his wife, Ashoo SInchawla, left, and son, company director Anurak Sinchawla
"That was in June 2014," said Sinchawla, whose company specializes in fine-quality rubies and sapphires. "We had never seen so many rubies in one room in our entire lives, so yes, we were impressed. Everybody was amazed at just how many rubies they had and how big the stones were."
Gemfields sold $33.5 million-worth of Mozambique rubies in its first auction.
"That was quite an impressive number," he continued. "Usually, rubies don't come in big groups but since Gemfields is a big miner – they have 500 to 600 people on the ground in Montepuez, and they have the equipment to extract the stones – we are confident that they can provide the market with a consistent supply of Mozambique rubies."
After seeing the quality of rubies coming out of Mozambique, buyers have become more receptive to the African gem, said the gemstone dealer. "Mozambique rubies have been traded in Bangkok in the last six to seven years. We were then buying stones in smaller quantities from local suppliers," he said.
The ruby marketplace as they knew it changed when Gemfields burst onto the scene two years ago. As Harebottle mentioned earlier, the company's strategy is to ensure a consistent supply of professionally graded coloured gemstones; promote disclosure, transparency and education to inspire greater consumer trust; and be the market leader in coloured gemstone exploration and mining ethics. Its rough gemstone auction platform has also been well-received by the market.

Cut and polished Mozambique rubies from Sant Enterprises Co Ltd
Marketing and promotion
"Mozambique rubies are very nice and clean, and they come in bigger sizes – about 2 to 7 carats. Designer houses and brands are catching on, and are making jewellery using Mozambique rubies," Sinchawla said. "Gemfields is also promoting it. They came to our office a few months ago and said they will spend about $10 million promoting this gemstone in 2016. we are one of their main buyers and we plan to keep on buying from them."
Some stones coming out of the Montepuez mine rival the finest Burmese material in terms of quality, he added.
"But there are also lots of Mozambique rubies that are quite dark. This is due to the ruby having more iron. The iron masks the stone's fluorescence; hence, the gem does not have that 'Burma glow'. Burmese rubies have more chromium and less iron, and these affect the final look of the stone," said Sinchawla.
Born into a family of gemstone miners, traders and manufacturers, Sinchawla said his clan has been in the gemstone business since 1890. The fifth-generation gemstone dealer added that his family, who hails from Burma, used to own and operate mines in Mogok. His son, Anurak, has since joined the family business and has recently completed his Graduate Gemologist Program at the GIA in Bangkok.
Sant Enterprises has its own coloured gemstone-cutting facility in Thailand and works with two to three other companies that excel in cutting and polishing certain types of stones.
"We pick the rough, sort the stones, and then we decide on which cutter will get to cut and polish the stones. Who can produce the best yield, take out the inclusions properly and give us a better-looking stone? Sometimes we send the stones to Sri Lanka or Chanthaburi, and sometimes, we cut the rough stones ourselves," he said.
"Ruby-cutting is a very delicate art. Since the ruby is dichroic – one side is orange and the other side is red – we want the right colour to come out. We want the red side to come out from the table and the orange side to go into the girdle. Hence, setting the axis of the table is a very important part of the cutting process."
The ruby and sapphire specialist said he is positive about the demand prospects for Mozambique rubies in the coming years.
"The overall situation now is a little bit slow but I am cautiously optimistic about business this year. There will be steady demand for gemstones and that's good enough for me," he said. "There definitely is a market for the Mozambique ruby but it will take a little bit more time before demand really takes off since the stone is relatively new. The Burmese ruby, on the one hand, has been around for a century."

Rough rubies from Montepuez in Cabo Delgado Province, Mozambique. The material has great colour but is typically flat, and most of the stones have many fissures. Photo by Vincent Pardieu / GIA Laboratory Bangkok, November 2009
Field gemmology
Vincent Pardieu, senior manager of field gemmology in Bangkok of the GIA, said it is quite easy to determine if the ruby material is from Montepuez in Mozambique or from other deposits.
"First, it is important to understand that these rubies are associated with a geological environment that was not known to produce much facet-grade material in the past. Most of the commercial ruby deposits were coming from marble-type deposits like those from Burma, Vietnam, Afghanistan and Tajikistan or from basalt-related deposits like those from Thailand and Cambodia," Pardieu said. "The rubies from Mozambique are found associated with a rock rich in amphibole, mica and feldspar. This means that the inclusion scene found in these rubies is usually very different from the inclusion scene found in rubies from other geological type."
Second, the institute also conducts intensive research on trace element chemistry, he continued.
"It is a very powerful tool since it also provides origin determination in the absence of inclusion for very clean, unheated stones or for heated stones as heat treatment usually affects inclusions. Luckily again, rubies from Mozambique have a very unique combination of trace elements that easily enables the separation of Mozambique rubies from rubies found in marble-type deposits like those from Burma," Pardieu explained. Asked to share some of the key takeaways from his visits to Montepuez's ruby mines, the gemmologist said nothing beats collecting materials and information direct from the source.

Vincent Pardieu presenting two rubies from the Mugloto area, which he collected for the GIA reference collection from the Gemfields washing plant in Montepuez. Photo by Stanislas Detroyat / GIA Laboratory Bangkok
"At the end, I believe that any serious gem lab should have a field gemmology programme and do gemmology in the field by first using their ears but then they have to go beyond that: They should use their feet to visit the mines, witness the mining activity and collect reliable reference samples. Without a reliable reference collection, it is not possible to do serious gemmological research," he said.
In 2012 and 2014, Pardieu said he and his GIA colleagues dug out ruby samples when they visited the Central and the Maninge Nice areas inside Gemfields' licensed area.
"It was fascinating to collect several interesting ruby specimens from their amphibolite host rocks with hand tools," he said. "Collecting samples directly at the mine also ensures that our samples were not submitted to heat treatment, something which cannot be guaranteed if you collect stones in the market. Again, ensuring that our reference samples had never been submitted to any treatment is essential when we want to study the difference between heated and unheated stones."
Field expeditions also allow gemmologists to witness first-hand the extent of the mining activity, study the geological background, and get a better idea about the potential and the significance of the deposit, Pardieu said.
"In that aspect, we learnt from our visits to the deposit near Montepuez that it produces two different types of stones: The area in the East from Nacaca to Maninge Nice, Central and Glass produce vibrant stones, with a rather low iron content, reminding one of a characteristic similar to the stones produced in Burma. On the other hand, the areas located west of the licence near Mugloto, Machamba and Ntorro usually produce stones with higher iron content; they are less fluorescent and this aspect reminds one of rubies from Thailand and Cambodia."