True North Receives $10 Million Finance Package for Greenland Ruby Project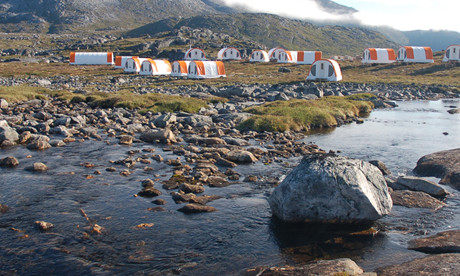 By Danielle Max
IDEX Online News
Junior exploration company True North Gems Inc. and its operating subsidiary in Greenland, True North Gems (Greenland) (TNGG) are to receive more than C$11 million ($10.03 million) in financing.
The financing agreement was signed with Leonhard Nilsen & Sonner (LNS Group) and LNS Greenland (LNSG).
True North president and CEO Nicholas Houghton said the agreement and reinforcing of the joint partnership will provide it with the additional resources need to quickly transition into the construction phase of the Aappaluttoq Ruby Project.
"The combined financing package will allow the company to restructure its share of capital expenses, reducing our immediate requirements and in particular, minimizing dilution to current shareholders. With this funding arrangement, the company will be able to deliver on its vision of becoming one of the world's leading colored gemstone production and exploration companies," he said.
True North said it intends to use the net proceeds of the financing transaction toward it share for the development of the project whilst working with LNSG to initiate construction.
The company will also begin processing the remaining material extracted from the initial bulk sampling. Upon completion, the rubies and pink sapphires will provide "an arms-length pricing for the project" and an immediate source of revenue.
Under the terms of the agreement, LNSG will hold a 27-percent interest in TNGG and a "significant" shareholding by the LNS Group in True North.
In March, the government of Greenland awarded True North Gems Inc. an exclusive 30-year mining license for the Aappaluttoq ruby deposit.
Under the terms of the mining license, True North has agreed to pay a gross revenue royalty to the government of Greenland of 5.5 percent on all sales of rubies and pink sapphires exploited from the deposit.
The mine will be an open pit development, and is estimated to have an initial nine-year mine life.