Diamonds are forever but here and now coloured gemstones are cutting edge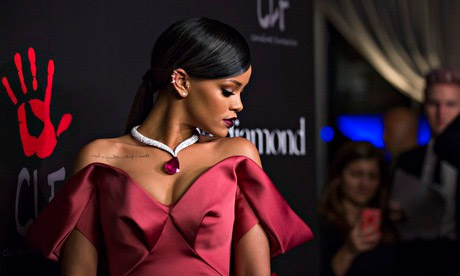 For those prepared to throw money – quite a lot of it – at the ideal Christmas present this year, the gift of choice is no longer white diamonds, but coloured gemstones.
The market for coloured stones is on fire, with record prices being achieved for rubies and sapphires. At its latest ruby auction in Singapore, Gemfields achieved an average price per carat of $689 (£438), with total sales of $43.3m from its Montepuez mine in Mozambique. Both figures were records for the London-listed miner and luxury goods specialist.
Last month, Sotheby's set a new world record for a ruby when it sold an 8.62 carat Burmese stone for 8.2m Swiss francs (£5.4m). The auction house also set a new world record for sapphires at a recent auction in Hong Kong.
Diamonds may be forever but there is nothing new about the appeal of coloured gemstones, which were worn by Wallis Simpson and are favoured by the Duchess of Cambridge, who wears the 12-carat Ceylon sapphire engagement ring once owned by Diana, Princess of Wales. Rare and beautiful as they may be, Cailey Barker, mining analyst at Numis, identifies a number of factors pushing up gemstone prices lately, including rising demand in the world's largest economy.
"Gemstones have been performing well mainly because of jewellery buying on the street, predominantly led by the US," she said. Gemfields' marketing has been very successful, according to Barker, partly helped by the fact that it also owns the luxury jeweller Fabergé. "It's a chicken and egg situation. There is demand, but Gemfields is also creating the demand."
The company has introduced a grading system, allowing jewellers to match colours and reassure consumers about the quality of the stones. Another key to success has been providing a consistent supply of something that is inherently rare and difficult to source.
Gemfields specialises in emeralds, owning the world's largest emerald mine in Zambia, but it also produces amethysts from Zambia and rubies from Mozambique.
New sources are being found for coloured stones. Burma was traditionally considered the main source of high-quality rubies; Mozambique is a relatively new supplier.
The company, whose chief executive is Ian Harebottle, can take the stones all the way from the ground to the jeweller – known in the male-dominated trade as the "mine to mistress" approach. "What De Beers does for diamonds, we do for colour," he said.
Where stones are auctioned, the sale is a very select affair, according to Harebottle. A typical emerald auction would attract 100 potential buyers hoping to get in, but admissions are limited to about a third of that. A ruby auction might attract about 200 would-be buyers but only about 50 will be selected to attend.
Harebottle said it was important to sell to the right buyer. "These gems are extremely rare, much rarer than a diamond. I'd hate to sell to someone who is going to cut it badly. This is not just a fly-by-night world. "It's not a dictatorship. It's not as if we're the only supplier, but we try and choose people we think will help grow the industry."
Demand is rising as the world's middle classes swell and information is more readily available, according to Joanna Hardy, an independent jewellery specialist.
"People now understand that there are other stones that are also getting good prices. There are more people with money and there aren't enough [stones] to go around. Knowledge is becoming more accessible. There is more information around and more appreciation."
Recent trends can be seen at the world's most exclusive jewellers. Earlier this year, the luxury jeweller Cartier showcased its royal collection at the Biennale des Antiquaires in Paris, featuring a necklace with a 15.29 carat oval-shaped ruby from Mozambique. The collection also included pearls, emeralds and sapphires.
Hardy, however, says it is not all about trends and fashion. "It's about what the earth produces and the rarity of the stones. People are really fascinated about how a stone arrived." At Gemfields, emeralds account for around 75% of revenues, but it is building its ruby business. The company – which boasts Hollywood actress Mila Kunis as ambassador – has about a year's supply of both emeralds and rubies. Can the run of rising prices last? "We're working hard on exploration," Harebottle said.
Hardy cautioned that the availability of coloured gemstones on the high street might give the misleading impression that precious stones were in large supply. "We're being spoilt by thinking it's all readily available but it's not. On the high street a lot is heat-treated to enhance the colour. The rare stones are the ones that are untouched apart from being