Gemfields Joins Forces with Top Jewelers for Spectacular Ruby Designs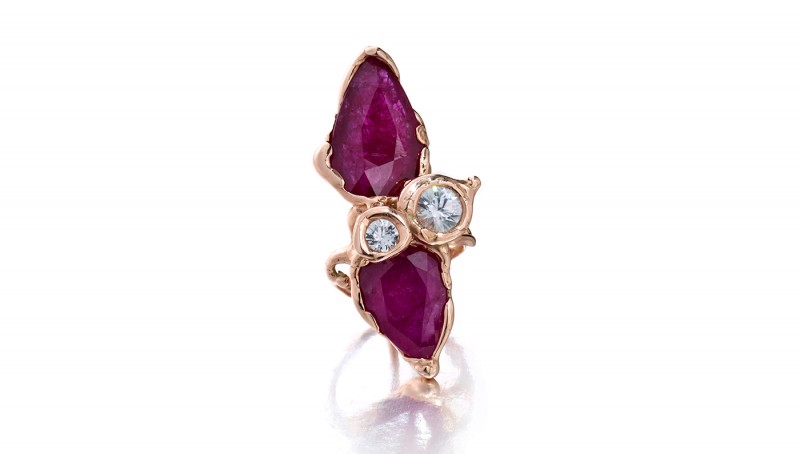 February 12, 2017
In its latest series of high-profile design collaborations, Gemfields partnered with Fred Leighton to create a series of bold pieces using its Mozambique rubies. The standout design was a yellow-gold bracelet anchored by a 25.51-carat ruby. It was made for Irish-Ethiopian actress Ruth Negga, who wore it to January's Golden Globe Awards where she was nominated for her performance in Loving. It was commissioned by Negga's stylist, Karla Welch, who collaboration with Gemfields on the design. Meant to resemble a shirt sleeve cuff, the bracelet stood out at the event amid a sea of diamond jewelry not only because of the size of the ruby "button" at its center, but also because of its distinctive, not-quite-red hue.
"The direction Karla gave us was very specific—she wanted a raspberry red color," says Rebecca Selva, chief creative director for the New York–based Fred Leighton. "Rubies come in all hues and tones, and we have a palette of rubies we can show and use. The raspberry red color was gorgeous and it worked perfectly with [Ruth's] dress."
Gemfields' designer partnerships range from high-profile collaborations such as the one with Fred Leighton—which also included an 18-karat yellow-gold ring set with 34.44 carats of rose-cut Mozambican rubies and a pair of vintage yellow-gold earrings with 14 carats of Mozambican ruby cabochons—to everyday pieces from some of the most talented, forward-thinking names in the jewelry business. Milan-based Lucifer vir Honestus, New York–based Michelle Fantaci, and Athens-based Elena Votsi, for example, have all crafted designs for Gemfields featuring Mozambican rubies in various cuts, colors, and qualities.
What unites the pieces is their ethical provenance, which stems from Gemfields' commitment to responsible sourcing. "It means a lot to me to know the materials I use are ethically sourced and that the workers involved in each step are fairly compensated," says Los Angeles–based designer Kimberly McDonald, who created a pair of opal earrings for Gemfields that are set in white gold with black rhodium, and framed by rubies and diamonds. "What I like about the Mozambican rubies I've purchased from Gemfields is their color," she adds. "Rubies, particularly smaller stones like the ones I used in these earrings, can tend to show up a bit dark. But these are a beautiful bright color and filled with life."
"Gemfields is the ultimate ingredient brand," says Sally Morrison, director of sales and marketing for Gemfields in the Americas. "It's never going to have its own jewelry line, but we can live in any number of aesthetic expressions and it's important to illustrate that diversity. We can be extraordinary in high jewelry and in small, fashion-forward things that will find a very specific audience—and everything in between." (gemfields.co.uk)
Courtesy: Robb Reports